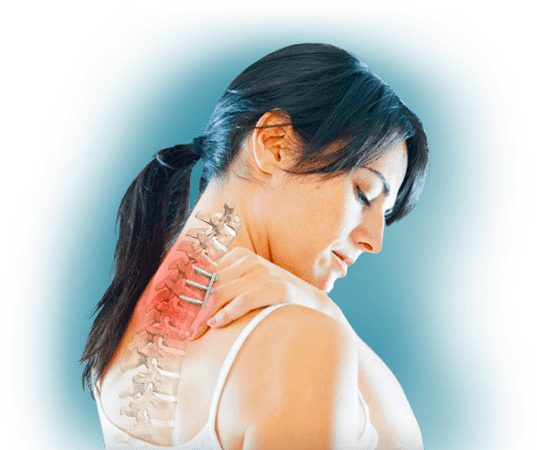 Click "Yes" to learn about ALL of the treatment options available for you.
Click "No" to learn the cause of your condition and treatment alternatives.
Cervical Fusion Surgeries have long been the standard treatment for many serious conditions of the neck. However, traditional fusions are outdated due the number of risks, extensive recovery time and substantial cost. Fusions also carry the risk of:
Painful bone grafts
Excessive bleeding
Implant breakage
Infection
Nerve injury
Fusion Failure
Introducing: A Better Solution
Artificial Cervical Disc Replacement is a trusted, proven and minimally invasive alternative to traditional cervical fusions. Disc Replacement is also becoming the preferred treatment option due to its vastly decreased recovery time coupled with the eliminated need for bone grafting.
Comparison
The vertebral fusion has been a mainstay of modern neck pain treatment for years. But it has its caveats- including loss of motion, a long recovery time, and occasional residual pain. Now with an advanced Artificial Disc Replacement, you can have painless freedom of motion without the negative side effects. Welcome to the next generation of cervical spine treatment.
Range of Motion
With traditional fusion techniques, the natural range of motion in your neck is greatly decreased. However, with an artificial disc replacement, you can enjoy the full range of your natural motion.
Invasiveness
As you can see from these x-ray images, a fusion can be very invasive and almost barbaric compared to a low-profile, minimalistic artificial disc. Minimally invasive artificial disc replacement works so well that you will forget the disc is there.
Artificial Cervical Disc Replacements are designed to be as small and effective as possible. Without the need for bulky hardware, you can enjoy more freedom of movement over that of traditional fusions.
Which Is Right For You? Disc Replacement or Spinal Fusion
If you have a spine injury that damages a disc, then that disc needs to be fixed in order to fully heal. Unfortunately, it is not always easy to fix the disc, which leaves you with two options: disc replacement or spinal fusion.
Both options can be effective as long as they are used in the right situations. How do you choose the right one? You need to be assessed by a spine surgeon to see which is better. Orthopedic & Laser Spine Surgery can help you assess what you may need to have done and can help walk you through the entire process.
What's the Difference Between Disc Replacement and Spinal Fusion?
Disc replacement and spinal fusion are two surgical procedures used to treat back problems. In a disc replacement, the damaged disc is removed and replaced with an artificial disc. In a spinal fusion, the damaged disc is removed and the spine is fused together using a bone graft. Both procedures can be done using minimally invasive surgery. Disc replacement surgery is often done as a less invasive alternative to spinal fusion surgery.
What Is Disc Replacement?
Disc replacement is a surgical procedure to replace a damaged intervertebral disc in the cervical spine. The damaged disc is removed and a replacement disc is inserted into the empty space. Disc replacement is an alternative to spinal fusion.
What Are the Benefits and Risks of Disc Replacement?
This surgery is an option when other treatments, such as physical therapy, haven't worked. Disc replacement surgery can relieve pain and improve mobility. The main benefit of disc replacement surgery is relief from pain, as the damaged disc often presses on nerves. By removing the damaged disc and replacing it with an artificial disc, the pressure on the nerves is relieved. This can lead to improved mobility as well.
There are some risks associated with disc replacement surgery, as with any type of surgery. These risks include infection, bleeding, blood clots, and nerve damage. In some cases, the artificial disc may not be properly aligned and may need to be replaced. There is also a risk that the spine may not fuse correctly and may require additional surgery.
Why Would I Need a Disc Replacement?
The damaged disc is removed and replaced with an artificial disc, which helps to preserve the range of motion in the spine and relieve pain. In some cases, fusion surgery may be recommended instead of a disc replacement. This is when the damaged disc is removed and the vertebrae are fused together using metal rods or screws.
What Happens During Disc Replacement Surgery?
Disc replacement surgery is a type of surgery that is used to treat a damaged or degenerative disc. The surgeon will remove the damaged disc and replace it with an artificial disc. This type of surgery can be performed on the lumbar or cervical region of the spine.
What is Spinal Fusion?
A spinal fusion is a type of surgery that joins two or more vertebrae together. This procedure can be performed on any area of the spine but is most commonly done in the cervical (neck) region. The goal of a spinal fusion is to stop the movement of the vertebrae and relieve pain. To do this, the surgeon will remove any intervertebral discs between the vertebrae and then use metal rods and screws to fuse them together.
In some cases, bone grafts may also be used to help promote fusion. During the procedure, your surgeon will place bone grafts between the vertebrae. These grafts will eventually grow into new bones, which will fuse the vertebrae together. In some cases, metal rods or screws may be used to hold the vertebrae in place while the grafts heal. Once the vertebrae are fused together, they will no longer move independently from each other.
What Are the Benefits and Risks of Spinal Fusion?
This procedure is usually performed to relieve pain caused by degenerative disc disease, scoliosis, and other spine conditions. Fusion surgery can also be performed to correct deformities in the spine or to stabilize the spine after a fracture. The success rate for spinal fusion surgery is high, with most patients reporting significant improvements in their back pain and quality of life after the procedure.
There are several potential risks associated with spinal fusion surgery, including infection, bleeding, blood clots, and nerve damage. In addition, the fusion process itself can sometimes fail to achieve the desired results. Although serious complications from this type of surgery are relatively rare, it is important to be aware of the potential risks before undergoing the procedure.
Contact Experienced Florida Spine Surgeons at OLSS Today
Whether you need a disc replacement or spinal fusion, getting the treatment that you need is the priority. At Orthopedic & Laser Spine Surgery, we are focused on assessing your needs and getting you the right type of treatment, no matter what it is. Our spine surgeons have dedicated their lives to getting our patients the care they need in order to regain their quality of life.
If you need help getting spine and back treatments, call Orthopedic & Laser Spine Surgery at (855)-853-6542 or use our online contact form to schedule a consultation. We will review your case and help you find the right treatment option so that you can make a full and lasting recovery.